🎥 WATCH & SUBSCRIBE TO OUR YOUTUBE CHANNEL! 🔴
---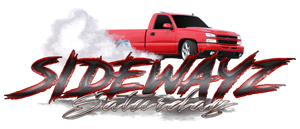 Sidewayz Saturday TRUCK Show
COMING SOON 2023!
Truck Show, Donut Pit & Live Concert! We will also be having a variety of vendors selling Tasty Food, Drinks, Truckin Apparel, Truck Accessories & much more! Sidewayz Saturday is an all age event so bring out the whole family & enjoy this unique experience!
follow our Instagram Event Page
This section doesn't currently include any content. Add content to this section using the sidebar.